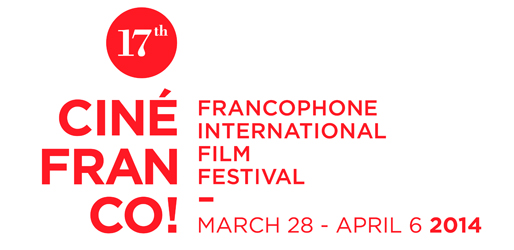 Discover International Francophone Cinema at Cinéfranco 2014
The Royal in Toronto
Friday, March 28 – Sunday, April 6, 2014
A special Free pre-festival program of Francophone Canadian shorts with filmmakers in attendance
Wednesday, March 26 2014, 6:30pm at Magic Lantern Cinema, Carlton St
Tuesday, March 11, 2014: Cinéfranco, English Canada's largest celebration of international Francophone cinema returns to The Royal in Toronto from Friday, March 28, 2014 to Sunday, April 6, 2014 for its 17
th
edition.
Catch up with your favourite stars and directors, and discover new talents through the 25 feature films and 14 shorts screening at Toronto's beloved annual showcase of the best of Francophone cinema. Films from
Belgium
,
Canada
,
France
,
Germany
,
Luxembourg
,
Morocco
and Portugal will grace the big screen, including 14 North American Premieres, 7 English Canadian Premieres and 2 Canadian Premieres.
This year's program is a mélange of strong films reflecting cinema's ability to entertain as well as to inform.
The struggle against racism, intolerance and inequality is a major focus of Cinéfranco 2014
relfected in
Halal Butcher Shop
,
The Marchers
,
Hold Back
,
Youm ou Lila
, and
Asphalt Playground.
Comedies
(Wrestling Queens, 9 Month Stretch, Hôtel Normandy, The Gilded Cage, Quai d'Orsay)
and romance
(Bright Days Ahead)
will buoy our spirits, a classical revival and a swashbuckling period piece will delight us
(Angelique, Fanny, Marius),
thrillers will take us to new worlds
(Back in Crime, The Informant, Jo's Neighbourhood),
dramas will move us
(For a Woman, Miss and the Doctors),
and our most loved stars will continue to
dazzle
(Catherine Deneuve, Guylaine Tremblay, Fanny Ardant, Daniel Auteuil, Gérard Jugnot, Sandrine Bonnaire, Nathalie Baye, François Arnaud).
Cinéfranco is again proud to present Quebec
independent short and feature films and co-productions such as
Opening Night's hilarious
Moroccan Gigolos,
the captivating
thriller
The Informant,
and the fierce revenge drama
The Scar.
Cinefranco 2014 is proud to present three programs of shorts on March 26, March 29, and April 3.
March 26's program of Francophone Canadian shorts includes Q+A w the filmmakers and is free, courtesy of FRIC and Le Labo. On March 29, FRIC and Le Labo are also sponsoring a program of shorts from young Quebecois and French filmmakers who will be in attendance for a post-screening discussion, and on April 3, FrancoQueer and the Inside Out GLBT Film Festival are sponsoring a program of International and Canadian Francophone shorts.
Marcelle Lean, Founder-Artistic Director of Cinéfranco says of this year's line-up.
"We are very excited to welcome back our loyal audiences and to embrace new lovers of Francophone cinema at Cinéfranco 2014. I am extremely proud to be able to present a program so rich in its variety - a true constellation of celebrated actors, talented newcomers and gifted directors to fill the big screen at Toronto's Royal Cinema."
Welcome to Cinéfranco 2014!
Opening Night
kicks off Cinéfranco with comedy. Belgian director-writer of Moroccan origins Ismaël Saïdi's
Moroccan Gigolos
follows three childhood friends played by Quebec's François Arnaud (
The Borgias
), comedian Eddy King and Reda Chebchoubi whose dream to open a sandwich shop is financially out of reach. After getting into a car accident Samir (Chebchoubi) goes to the home of the other driver, an older woman, to fill out the paperwork. She seduces him, and he returns not only with a positive report, but a cash bonus. When he tells the story to his friends, a lightbulb goes off and a new business to fund the sandwich shop is born.
Closing Night
film is Katell Ouillévéré's
Suzanne
,
an unforgettable drama that quietly tugs at the heartstrings. With 5 César Award 2014 nominations and festival showings in 2013 at
Cannes
, Chicago and London Film Festivals, Ouillévéré's film follows Suzanne (played by Sara Forestier) through 25 years as a woman "high on" love and eager to be free.
Films with a social conscious
The struggle against racism, intolerance and inequality is a major focus of Cinéfranco 2014.
Iranian-Canadian Babek Aliassa's
Halal Butcher Shop,
the story of a Muslim immigrant family's struggles to integrate in Quebec, provokes our outrage, fears and prejudices, giving context to the current debate in that province. A modern Romeo and Juliet French drama
Hold Back,
depicts racism and intolerance within the immigrant Muslim Algerian community when Dorcy, a young black Christian wants to marry Algerian Muslim Sabrina. Julien Abraham's dramedy
Asphalt Playground,
inspired by the Brazilian film
The City of God,
depicts young peoples' daily struggle for a better life in Paris' northern suburbs. Belgian director Nabil Ben Yadir's
The Marchers
recounts the 1983 march for human rights in France spurred by three teenagers inspired by Gandhi and Martin Luther King. And in Moroccan director Naoufel Berraoui's poignant drama with documentary accents
Youm ou Lila,
a sheltered traditional Yzza leaves her village for Casablanca to buy the life saving medicine her daughter so desperately needs.
Comedies
Cinéfranco 2014 knows that laughter is the best medicine!
With 3 César nominations, Master French director Bernard Tavernier doesn't disappoint with
Quai d'Orsay
, delivering a fast paced hilarious satire on political power with a stellar cast including Julie Gayet and Thierry Lhermitte. With a César nomination for Best First Film
The Gilded
Cage
is Ruben Alves' charming story of a Portuguese couple who struggle with their strong work ethic when trying to retire back to
Portugal
after working for a lifetime France. In
Wrestling Queens,
former prisoner Rose recruits her new co-workers to form a womens' wrestling team so she can get close again with her son. Nathalie Baye, Isabelle Nanty, Marilou Berry, Audrey Fleurot, Corinne Masiero and André Dussllier as their grumpy old coach, actually trained together for 3 months to get all the moves down! Sparks fly in
9 Month Stretch,
nominated for 5 Césars including Best Film, with the comedic mis-match between Ariane, a proud single judge who finds herself unexpectedly pregnant and Nolan, a repeat offender in her court. Anything is possible at the
Hôtel Normandy
when best friends secretly conspire to set up widowed Alice with a man for her 40
th
birthday.
The Female Eye
There are many notable films by women directors at Cinefranco 2014
Emmanuelle Bergot's
On My Way
stars the incomparable Catherine Deneuve as a sixty-something
woman fed up with her failing restaurant and relationship, who steps out for a break one day, gets in her car and drives away to unknown adventures. Nominated for a César for Best Actress, Deneuve's performance debunks her own myth of the icy blonde icon. Sandrine Bonnaire and Gérard Jugot star in
Adieu Paris
, Franziska Buch's drama about strangers coming together amidst hardships and grief. A beautiful romance unfolds in Marion Vernoux's
Bright Days Ahead
starring Fanny Ardant as a dentist in her sixties and Patrick Chesnais. Their sparks light up the screen and prove that there are truly second chapters and second chances. Both actors are nominated for Césars. Inspired by her family history in the aftermath of the Holocaust, acclaimed director Diane Kurys'
For A Woman
is a captivating, deeply moving and beautifully crafted film.
Paris
'
Chinatown
is the centre of Ropert Axelle's drama
Miss and
the Doctors
. When two aging bachelor brothers and doctors respond to the night call of a diabetic little girl, their lives are turned upside down when they both fall madly in love with the girl's single mother.
A muffled rivalry tinged with humour and melancholy threatens their bond.
Boys to Men
Teen crime and bullying reap their harvest……
Helier Cisterne's
Vandal
is a tribute to the power of art to transform. When 15 yr old Cherif is caught by police for speeding in a stolen car, his mom is at her wit's end and pleads with the judge for permission to send him away to live with his aunt and uncle. Cherif finds himself bristling under the harsh discipline of his uncle and his training as a bricklayer but finds freedom and passion when his introduces him to the clandestine world of street art. Jimmy Larouche's
The Scar
is a searing drama about the vicious cycle of the bullied who bullies. At a hockey game, Richard recognizes Paul who bullied him mercilessly as a boy. Though a grown man the emotional pain is still palpable and Richard seeks his revenge. In
Jo's Neighborhood
, Jo returns to his neighbourhood Menilmontant after 15 in prison to find that things have changed. Gangsters are now in control and no one is spared. Director Alain Minier still lives in this tough Parisian neighbourhood of his childhood and skillfully and knowingly intertwines humour in the midst of harsh crimes, suspense and humanity.
Policiers
In the France-Canada co-production
The Informant
an indebted Marc Duval, a French ex-pat in
Gibraltar
and bar owner where drug dealers ply their trade becomes an informant for French Customs. Caught in a web of political intrigue and illicit drug trade he becomes a pawn in an international power play among drug lords and customs officials and struggles to save his skin. Tension mounts in Julien Leclercq's thriller based on the real life 80's story of Marc Fievet. Tahar Rahim as the conflicted customs agent, the dangerously charismatic Ricardo Scarmacio and Gilles Lellouche are the dream cast in this thrilling game of chess and dirty tricks. Germinal Alvarez's first feature film
Back In Crime
is a thriller with a twist – time travel. Chief inspector Richard Kemp (a powerful performance by Jean-Hugues Anglade) investigates a homicide that strangely reminds him of murders committed by a serial killer in 1989 and he is propelled back in time to try and keep the murders from taking place but he's thwarted by an ambitious, tenacious investigator – none other than himself 20 years ago. The always dazzling Melanie Thierry plays Helene Batistelli, a key witness Kemp needs in his inquiries.
A Classic Revival
Actor-director Daniel Auteuil brings new life into Marcel Pagnol's classics in his remake of
La trilogie marseillaise
.
Marius
sets the scene at the Old Marseille Port where Cesar (Auteuil) and his son Marius manage the Bar de la Marine and are witness to all the gossip including the rumours about Marius's love Fanny who is also the object of fifty yr old Mr Panisse's affection and marriage proposal.
Fanny
takes up where
Marius
leaves off with the Bar de la Marine and it's patrons in a state of turmoil between Mr Panisse's marriage proposal, Fanny's swoons, her mother's hysterical reaction and the upcoming wedding plans.
Auteuil
, his marvelous cast and Alexandre Desplat's mournful score brings the magic back to a classic love story.
A Swashbuckling Period Drama
Director Ariel Zeitoun's film adaptation of Anne Golon's historic novel
Angelique
brims with adventure, gorgeous period costumes and a sumptuous sound track. As well, stellar performances by the magnificent Gerard Lanvin and the beautiful Nora Arnezeder are the focus of this love story against the backdrop of Louis XIV court where power struggles and plots threaten the happiness of the lovers devoted to fighting against oppression and injustice.
Directors at Cinéfranco 2014
Ismael Saidi, Director,
Moroccan Gigolos
, March 27 - April 9
Jimmy Larouche, Director, The Scar (
La Cicatrice)
, March 26 – March 30
Alain Minier, Director, Jo's Neighborhood (
Un P'tit gars de Ménilmontant)
, March 29 – April 2
Nabil Ben Yadir, La Marche (Walkers) Director, April 3 – April 6
Naoufel Berraoui, Youm ou Lila, April 4 - April 7
Producers at Cinéfranco 2014
Patricia Diaz, Producer, The Scar (
La Cicatrice)
, March 26 – March 30
Michel Robin, Producer, Jo's Neighborhood (
Un P'tit gars de Ménilmontant)
, March 29 – April 2
Actors at Cinéfranco 2014
Said Benyoucef, Halal Butcher Shop (Boucherie Halal)
Short Film Directors & Round Table Attendees:
Patrick Aubert, Une Pensée pour Robert, March 28 – April 1
Pierre-Luc Lafontaine, Purpl Love, March 28 – March 29
Marc-Olivier Comeau, Journée de carrière, March 28 – March 29
Céline France, Comptine en deux temps & 2121 Saint Mathieu, March 28 – March 29
*Note; The presence of Guests may be subject to last minute and unexpected changes
Cinéfranco 2014 Box Office Information:
Tickets: $12; Students and Seniors: $10; Festival
Pass: $99
FOR ADVANCED TICKETS (available until midnight, the day before the screening):
Walkup: T.O.TIX*, 1 Dundas Street East, Yonge-Dundas Square - Tuesday to Saturday, 12:00 pm to 6:30 pm
Online, 24 hours a day:
www.cinefranco.com
or
www.totix.ca
TICKETS (for the screenings of the day):
The Royal, 608 College Street
,
Toronto
Every day from March 28 to April 6 - starting 60min prior to the screening
Walkup and cash only
For further information:
Box office, ticketing, schedule and program:
www.cinéfranco.com
All films at Cinéfranco are screened with English subtitles.
Découvrez le cinéma francophone international à
Du vendredi 28 mars au dimanche 6 avril 2014
En avant-première du Festival, programme spécial de courts métrages franco canadiens en présence des réalisateurs le mercredi 26 mars 2014 à 6.30pm
au Cinéma Magic Lantern, 20 rue Carlton
Mardi 11 mars 2014 : Cinéfranco, le plus grand festival de cinéma francophone international du Canada anglophone, revient au Royal à Toronto du vendredi 28 mars 2014 au dimanche 6 avril 2014 pour sa 17
e
édition.
Retrouvez vos vedettes et vos réalisateurs préférés et découvrez de nouveaux talents dans les 25 longs métrages et les 14 courts projetés au programme annuel de la vitrine très appréciée de la fine fleur du cinéma francophone à Toronto.
Des films venus de la Belgique, du Canada, de la France, de l'Allemagne, du Luxembourg, du Maroc et du Portugal seront à l'honneur au cinéma avec 14 premières nord américaines, 7 premières au Canada anglophone et 2 premières canadiennes.
Le programme de cette année est un métissage de films forts reflétant le pouvoir qu'a le cinéma de divertir autant que d'informer. Le combat contre le racisme, l'intolérance et l'inégalité forme le noyau central de Cinéfranco 2014 dans les films comme
La Boucherie Halal
,
La Marche
,
La Rengaine,
Youm ou Lila
et
La Cité rose
.
Des comédies (
Les Reines du ring
,
9 mois ferme
,
Hôtel Normandie
,
La Cage dorée
,
Quai d'Orsay
) et des histoires d'amour (
Les Beaux jours
) nous réjouiront, une nouvelle version de grands classiques du cinéma et un film de cape et d'épée (
Marius
,
Fanny
et
Angélique
) nous raviront, des polars nous transporteront dans d'autres univers (
L'Autre vie de Richard Kemp
,
Gibraltar,
Un P'tit gars de Ménilmontant
), des drames nous toucheront (
Pour une femme
,
Tirez la langue Mademoiselle
) et nos vedettes favorites continueront à nous éblouir (
Catherine Deneuve, Guylaine Tremblay, Fanny Ardant, Daniel Auteuil, Gérard Jugnot, Sandrine Bonnaire, Nathalie Baye, François Arnaud
). Une fois de plus Cinéfranco est fier de présenter des longs et courts métrages du cinéma indépendant du Québec ainsi que des co-productions québécoises tels que le film hilarant d'ouverture
Moroccan Gigolos
, le polar captivant
Gibraltar
et le drame d'une vengeance féroce dans
La Cicatrice.
Cinéfranco 2014 est fier de présenter trois programmes de courts métrages le 26 mars, le 29 mars et le 3 avril.
La séance des courts canadiens francophones du 26 mars qui offre un échange avec les réalisateurs présents, est gratuite, compliment du FRIC et du Labo. Le 29 mars, le FRIC et le Labo co-présentent des jeunes réalisateurs québécois et français présents à la discussion qui suivra la projection de leurs films.
Le 3 avril « FrancoQueer » et « Inside Out » parrainent un programme de courts francophones internationaux.
Marcelle Lean, fondatrice et directrice artistique de Cinéfranco donne son avis sur le programme de cette année: «
nous sommes enchantés de retrouver nos fidèles spectateurs et d'accueillir avec joie les nouveaux amoureux du cinéma francophone à Cinéfranco 2014. Je suis vraiment fière de pouvoir présenter un programme aussi riche dans sa diversité – une réelle constellation d'illustres acteurs, de talentueux espoirs du cinéma et des réalisateurs doués sur le grand écran du Cinéma Royal de Toronto.
»
Bienvenue à Cinéfranco 2014
La soirée d'ouverture
commence par une comédie. Ismaël Saïdi, le réalisateur/scénariste belge d'origine marocaine du film
Moroccan Gigolos
suit trois amis d'enfance interprétés par l'acteur québécois François Arnaud (
Les Borgias
), l'humoriste Eddy King et Reda Chebchoubi qui ne peuvent pas se permettre d'ouvrir la sandwicherie de leur rêve. Après un accident de voiture, Samir (Chebchoubi) se rend chez la conductrice, une dame d'un certain âge, pour remplir les papiers d'assurance. Elle le séduit, et il revient non seulement avec un rapport à son avantage mais aussi avec de l'argent en plus. Quand il raconte l'histoire à ses copains, une idée géniale est née celle de créer une nouvelle affaire pour financer leur sandwicherie.
La soirée de clôture
présente le film de Katell Quillévéré,
Suzanne,
drame inoubliable qui fait doucement vibrer les cordes sensibles. Avec 5 nominations aux César 2014 et au programme des festivals de Cannes (2013), de Chicago et de Londres, Qillévéré filme la vie de Suzanne (jouée par Sara Forestier) sur 25 années, portrait de femme « dopée » d'amour et assoiffée de liberté.
LES FILMS À CONSCIENCE SOCIALE

Le combat contre le racisme, l'intolérance et l'inégalité forme le noyau central de Cinéfranco 2014.
Le film du réalisateur canadien d'origine iranienne,
Boucherie Halal
, l'histoire de la lutte d'une famille d'immigrants musulmans pour s'intégrer au Québec, réveille notre colère, nos peurs et nos préjugés dans le contexte des débats actuels au Québec.
Rengaine
, drame français d'une version moderne de Roméo et Juliette, peint le racisme et l'intolérance au sein de la communauté d'immigrants algériens musulmans lorsque Dorcy, jeune Africain de religion chrétienne veut épouser la musulmane algérienne Sabrina. La comédie dramatique de Julien Abraham
, La Cité rose
, inspiré du film brésilien
La Cité de Dieu,
montre la lutte quotidienne de jeunes gens pour une vie meilleure dans la banlieue nord de Paris.
La Marche
, le film du réalisateur belge Nabil Ben Yadir, remet en scène la marche de 1983 en France pour les droits humains, marche initiée par trois adolescents inspirés par les idées de Ghandi et de Martin Luther King. Dans le drame poignant du réalisateur marocain Naoufel Berraoui aux accents documentaires,
Youm ou Lila
, Yzza, femme naïve, quitte son village pour Casablanca afin d'acheter le médicament dont sa fille a un besoin désespéré et qui lui sauvera la vie.
LES COMÉDIES
Cinéfranco 2014 sait que le rire fait le plus grand bien à la santé !
Avec 3 nominations aux César, le film
Quai d'Orsay
du Maître réalisateur Bertrand Tavernier est loin de nous décevoir grâce au rythme rapide de cette satire hilarante sur le pouvoir politique, interprétée par une distribution formidable qui comprend Julie Gayet et Thierry Lhermitte. Nommé pour le Meilleur premier film aux César 2014,
La Cage dorée
est la charmante histoire que Ruben Alves raconte à propos d'un couple portugais qui a de grands problèmes de conscience à quitter la France au bout de longues années de travail acharné pour prendre une retraite bien méritée au Portugal. Dans
Les Reines du ring
, Rose ex taularde, recrute ses nouvelles collègues pour former une équipe féminine de catch pour se rapprocher de son fils. Nathalie Baye, Isabelle Nanty, Marilou Berry, Audrey Fleurot, Corinne Masiero et André Dussollier dans le rôle de leur entraîneur grincheux, se sont en fait entraînés pendant 3 mois pour bien maîtriser les passes de catch. Il y a des étincelles dans
9 mois ferme
, nommé dans 5 catégories aux César 2014 dont celle du Meilleur film, entre le couple comique dépareillé formé par Ariane, juge célibataire endurcie qui se retrouve enceinte elle ne sait comment et Nolan, le récidiviste qu'elle doit juger. Tout est possible à l'
Hôtel Normandy
quand les meilleures amies d'Alice, veuve qui fête ses 40 ans, s'arrangent pour qu'elle rencontre « par hasard » un homme.
Visions féminines
De nombreux films remarquables réalisés par des femmes sont au programme de Cinéfranco 2014.
Le film d'Emmanuelle Bergot,
Elle s'en va
, met en vedette l'incomparable Catherine Deneuve qui joue le rôle d'une femme dans la soixantaine, lasse de ses échecs dans sa vie professionnelle et amoureuse, qui décide de faire une pause un jour, monte dans sa voiture et conduit vers l'inconnu. Nominée pour le César de la Meilleure Actrice, Catherine Deneuve livre une interprétation qui démystifie son icône de blonde frigide. Sandrine Bonnaire et Gérard Jugnot sont les vedettes françaises de
Adieu Paris
, le drame de Franziska Buch à propos d'inconnus qui se rencontrent en pleines crise et douleur. Une belle histoire d'amour se déroule dans le film de Marion Vernoux
Les Beaux jours
avec Fanny Ardant dans le rôle d'une dentiste dans la soixantaine et avec Patrick Chesnais. La chimie du couple illumine l'écran et prouve qu'il existe des secondes chances et que la vie peut reprendre son cours. Les deux acteurs ont reçu une nomination pour les César. Inspiré par l'histoire post-Holocauste de sa famille, le film
Pour une femme
de la réalisatrice de grande réputation Diane Kurys, est une œuvre captivante, profondément émouvante et bien montée. Le Quartier chinois de Paris est au cœur du drame d'Axelle Ropert
Tirez la langue Mademoiselle
. Quand deux médecins frères et célibataires sur le tard, sont appelés en pleine nuit au chevet d'une petite fille diabétique, leur vie bascule car ils tombent tous deux follement amoureux de la mère célibataire de l'enfant. Une sourde rivalité teintée d'humour et de mélancolie menace leurs liens fraternels.
Des garçons et des hommes
Les délits d'adolescents et le harcèlement récoltent leur moisson…
Le film de Hélier Cisterne
Vandal
est un hommage au pouvoir transcendant de l'art. Lorsque Chérif, 15 ans, est arrêté par la police en plein délit de vitesse dans une voiture volée, sa mère est au bout du rouleau. Elle demande au juge la permission d'envoyer son fils vivre avec sa sœur et son beau-frère. Chérif ronge son frein tolérant à peine la rude discipline de son oncle et sa formation de maçon. Il découvre la liberté et la passion lorsqu'il s'initie au monde clandestin de l'art de la rue. Le film de Jimmy Larouche
La Cicatrice
est le drame percutant de la victime harcelée devenant bourreau harceleur. Lors d'un match de hockey, Richard reconnaît Paul qui l'avait brimé sans pitié quand il garçon à l'école. L' homme qu'il est devenu ressent encore une douleur palpable et Richard veut se venger. Dans
Un P'tit gars de Ménilmontant
Jo, après 15 ans passés en prison, revient dans son quartier où les choses ont bien changé. Des voyous contrôlent tout et n'épargnent personne. Le réalisateur Alain Minier qui vit encore à Ménilmontant, quartier bien transformé depuis son enfance, tricote adroitement et en toute connaissance l'humour avec les meurtres cruels, le suspense et l'humanité.
Les films policiers
Dans la co-production franco-canadienne
Gibraltar
Marc Duval endetté, expatrié français et propriétaire d'un bar fréquenté par des trafiquants de drogue, devient « indic » pour les douanes françaises. Pris dans le piège d'intrigues politiques et de trafic illégal de drogue, Marc est le pion dans la lutte du pouvoir entre les narcotrafiquants et les autorités douanières. Il doit toujours penser à sauver sa peau. La tension monte dans le film de Julien Leclercq inspiré par la vie de Marc Fievet dans les années 80. Tahar Rahim dans le rôle du douanier tourmenté, Ricardo Scarmacio au charisme empoisonné et Gilles Lellouche sont les acteurs rêvés dans ce jeu passionnant d'échecs et de sales traîtrises.
Le premier film de Germinal Alvarez
L'Autre vie de Richard Kemp
est un polar d'un autre type avec voyage dans le temps. Le commandant Richard Kemp (interprété avec brio par Jean-Hugues Anglade) mène une enquête sur un meurtre qui lui rappelle étrangement ceux qui ont été commis en 1989 par un tueur en série. Il est alors propulsé dans le passé où il essaie d'empêcher que ces meurtres n'arrivent. Mais ses actes sont obstrués par un inspecteur ambitieux et tenace qui n'est autre que Richard Kemp lui-même 20 ans plus tôt. Mélanie Thierry, toujours aussi éblouissante, interprète le rôle d'Hélène Bastelli, témoin clef nécessaire à son enquête.
Nouvelle version de films classiques
L'acteur devenu réalisateur, Daniel Auteuil insuffle une vie nouvelle à l'œuvre classique de Pagnol dans son adaptation cinématographique de
La Trilogie marseillaise.

Marius
plante son décor dans le vieux port de Marseille où César (Auteuil) et son fils Marius tiennent le Bar de la Marine, lieu privilégié de tous les cancans y compris ceux qui circulent sur l'amour que porte Marius à Fanny, elle-même l'objet des convoitises du vieux Panisse qui la demande en mariage.
Fanny
commence avec la désertion de Marius du Bar de la Marine devenu le théâtre d'une agitation particulière entre la demande en mariage de M. Panisse, les évanouissements de Fanny, l'hystérie de sa mère et les préparatifs du mariage. Auteuil, sa distribution magnifique et la BO empreinte de tristesse d'Alexandre Desplat, redonnent toute
sa magie à cette histoire d'amour classique.
Un film de cape et d'épée
L'adaptation du réalisateur Ariel Zeitoun du roman historique d'Anne Golon
Angélique
déborde d'aventures, de magnifiques costumes d'époque et d'une BO somptueuse. De même, la prestation du superbe Gérard Lanvin et de la belle Nora Arnezeder forme la plaque tournante de cette histoire d'amour qui se déroule dans la cour de Louis XIV où les luttes et les complots pour le pouvoir menacent le bonheur de ces amoureux dévoués à combattre l'oppression et l'injustice.
Réalisateurs présents à Cinéfranco 2014 :
Ismaël Saïdi, réalisateur de
Moroccan Gigolos
, du 27 mars au 9 avril
Jimmy Larouche, réalisateur de
La Cicatrice
(The Scar)
du 26 mars au 30 mars
Alain Minier, réalisateur d'
Un P'tit gars de Ménilmontant
(Jo's Neighborhood
) du 29 mars au 2 avril
Nabil ben Yadir, réalisateur de
La Marche
(
The Marchers
)) du 3 avril au 6 avril
Naoufel Berraoui, réalisateur de
Youm ou Lila
, du 4 avril au 7 avril
Les producteurs présents à Cinéfranco 2014
Patricia Diaz, productrice de
La Cicatrice
(
The Scar
) du 26 mars au 30 mars
Michel Robin, producteur d'
Un P'tit Gars de Ménilmontant
(
Jo's Neighborhood
) du 29 mars au 2 avril
Comédiens présents à Cinéfranco 2014
Said Benyoucef,
Boucherie Halal
(
Halal Butcher Shop
)
Réalisateurs des courts métrages et intervenants de la table ronde à Cinéfranco 2014
Patrick Aubert,
Une Pensée pour Robert
, 28 mars – 1
er
avril
Pierre-Luc Lafontaine,
Purpl Love
, 28 mars – 29 mars
Marc-Olivier Comeau,
Journée de carrière
, 28 mars – 29 mars
Céline France,
Comptine en deux temps
&
2121 Saint Mathieu
, 28 mars –29 mars
NB : Veuillez noter que Cinéfranco n'est pas responsable des changements de dernière minute et des imprévus quant à la présence des invités.
Billetterie Cinéfranco 2014 : renseignements
Billets : $12 ; Etudiants et seniors : $10 ; passe (pour 10 films) ; $99
ACHAT DE BILLETS A L'AVANCE (disponible jusqu'à minuit la veille de la séance)
:
En personne : TO TIX 1 rue Dundas est, Yonge-Dundas Square – Du mardi au samedi, de midi à 18h30
En ligne, 24h sur 24 :
www.cinefranco.com
ou
www.totix.ca
BILLETS (pour les séances du jour) :
The Royal - 608 rue College, Toronto
Tous les jours du 28 mars au 6 avril à partir de 60minutes avant le début de la séance en personne et en espèces seulement
Pour de plus amples renseignements :
Billetterie, achat de billets, horaire et programme :
www.cinefranco.com
Tous les films à Cinéfranco sont sous-titrés en anglais.